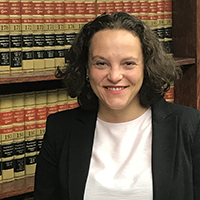 In 2009, Maria K. Dyson graduated from St. John's University with a Bachelor of Science degree in physics. In college, Ms. Dyson had a passion for service and volunteered with several community aid organizations. She spent two summers in Kenya participating in a day camp program that served children from impoverished villages. In 2013, she obtained her Juris Doctor from City University of New York Law School. CUNY is a public interest law school, and it was there that Ms. Dyson found a direction for her passion for social justice.
At CUNY, Ms. Dyson focused on civil rights litigation and completed an internship with the Law Offices of Frederick K. Brewington. Now, she is excited to return to the team as an experienced civil rights litigator. Ms. Dyson also served as the President of Moot Court and participated in several competitions. She was an active member of student organizations, including the Black and Latin American Law Student Associations. Ms. Dyson was a fellow with the Center on Latino and Latina Rights and Equality. She also interned with the Honorable Jenny Rivera at the New York State Court of Appeals.
After law school, Ms. Dyson worked for a private civil rights firm for seven years. She developed extensive litigation experience, having tried more than fifteen state and federal cases across the country. She has been certified as class counsel multiple times, and has litigated class actions involving civil rights violations, violation of federal labor laws, and product liability cases. Ms. Dyson also has appellate experience and has appeared before the Second, Third, Fourth, and Sixth United States Courts of Appeals. Recently, Ms. Dyson authored a Petition for Certiorari to the Supreme Court of the United States to address a degrading prison practice in Ohio, where pre-arraignment detainees were strip-searched in groups and hosed down with delousing solution. Ms. Dyson also worked for Alaska Legal Services as a general practitioner. There, she handled a wide variety of cases involving probate, consumer law, divorce, custody, domestic violence, and adoptions.
Ms. Dyson is most passionate about seeking justice for those harmed by police and prison officials and for pursuing systemic reform of those institutions.
Outside of work, Ms. Dyson enjoys reading and being outdoors.