The Law Offices of Frederick K. Brewington is a well-respected litigation firm with an office in Hempstead, Long Island. Our focus is primarily in the area of civil rights, voting rights, employment discrimination, police misconduct, personal injury, medical malpractice, wrongful death and criminal law. However, the Law Offices of Frederick K. Brewington is a full- service law firm handling matters in numerous areas of law and providing a wide range of services from contract formation to litigation and trial practice.
New Associate Welcomed to the Firm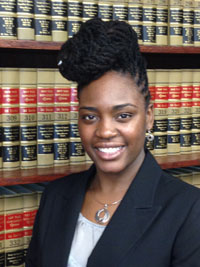 Mickheila Jasmin is the newest addition to the office's legal team. She is admitted to the Bar of New York and is awaiting admission to the Bar of New Jersey. Ms. Jasmin is a first-generation Haitian-American and hails from Far Rockaway, NY. She received a Bachelor of Arts Degree in Psychology from Princeton University in 2010 along with certificates in The Study of Women and Gender and African American Studies. At Princeton, Ms. Jasmin volunteered as a peer counselor for the Sexual Harassment/Assault Advising, Resources and Education (SHARE) office, co-founded Students Against Domestic Violence and spearheaded fundraising efforts in the wake of Haiti's devastating 2010 earthquake.

Ms. Jasmin went on to receive a Juris Doctor degree from UCLA School of Law in 2013. UCLA's Critical Race Studies program is the only American legal education approach designed to enlighten students committed to racial and social justice on how law and legal institutions have created and upheld social hierarchies based on race, gender, class, and sexual orientation. Through her specialization, Ms. Jasmin was able to study how she can use the law to dismantle those hierarchies and defend basic civil liberties.

Outside of her academic pursuits, Ms. Jasmin conducted intake at the Bet Tzedek Legal Services Employment Clinic, where she helped low-income and minority clients obtain economic justice. She also competed in the National Black Law Students Association's Frederick Douglass Moot Court Competition and won first place in the Western Regional division. Ms. Jasmin has had the privilege of interning in the Civil Division of the United States Attorney's Office and for the Honorable George B. Daniels in the Southern District of New York.

In addition to her dedication to civil rights litigation, Ms. Jasmin is actively involved in her community and continues to volunteer with the Jeter's Leaders Youth program, to which she has remained dedicated since her high school days. In addition to serving as a role model and encouraging teens to pursue social change, live healthy lifestyles, and develop leadership skills, Ms. Jasmin is a member of the Delta Sigma Theta Sorority, Inc. She brings enthusiasm to her work and maintains the high standards which are consistent with the work done by The Law Offices of Frederick K. Brewington.