The Law Offices of Frederick K. Brewington is a well-respected litigation firm with an office in Hempstead, Long Island. Our focus is primarily in the area of civil rights, voting rights, employment discrimination, police misconduct, personal injury, medical malpractice, wrongful death and criminal law. However, the Law Offices of Frederick K. Brewington is a full- service law firm handling matters in numerous areas of law and providing a wide range of services from contract formation to litigation and trial practice.
RECENT VERDICTS AND SETTLEMENTS
$7.75 million- Civil Rights and wrongful death action brought by the family of deceased

$4.7 million- Repeated verbal and physical assaults on Yemeni-American employee, while supervisor failed to protect employee and discipline the assailant

$1.277 million- Race based attack and serious injury by violent acts against Plaintiffs, who were lured to an isolated warehouse

$2.8 million- Wrongful death, products liability case involving a tow motor accident at a sewage treatment plant

IRA FOGELGAREN, ESQ., A PARTNER AND A FRIEND, IS MOURNED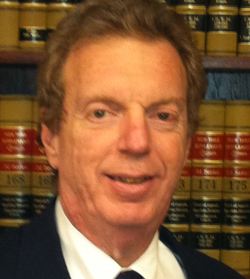 The office is saddened to report that Mr. Ira Fogelgaren passed away on December 22, 2017. He will be greatly missed and his death has impacted us all. We continue to extend our love and support to his wonderful family — Jacki, his loving wife, and his two sons, Sam and Danny, as they work through this ongoing period of mourning.

Ira Fogelgaren was admitted to the Bar of New York, as well as the United States Second Circuit Court of Appeals, and the U.S. District Court for the Southern and Eastern Districts of New York. He earned a Bachelor of Arts degree in Political Science and History from the State University of New York (SUNY) at Albany in 1976 and a Juris Doctor with honors from New York Law School in 1980. He was a member of the New York State Bar Association and the New York State Trial Lawyers Association.

Born and raised in the Bronx, New York, Mr. Fogelgaren clerked at the office of then-Assemblyman John C. Dearie and was a trial preparation assistant at the Bronx District Attorney's Office while attending law school. Prior to joining The Law Offices of Frederick K. Brewington, Mr. Fogelgaren worked at several of the most prominent personal injury firms working on many different types of cases, with an emphasis on medical malpractice. He was successful in obtaining million-dollar verdicts and settlements in numerous cases.

Mr. Fogelgaren had a longtime friendship with Mr. Brewington and joined the Law Offices of Frederick K. Brewington in 2002, working on a variety of personal injury, wrongful death, civil rights, employment discrimination and education claims. Aside from being successful in numerous cases, Mr. Brewington and Mr. Fogelgaren played a significant role in changing the New York State Board of Education rules with respect to the use of isolation rooms for special education students, as well as other cases of social and legal importance.

In order to provide greater opportunities for children with developmental disabilities, Mr. Fogelgaren was a co-founder and current division director of a Challenger Baseball team, in which children with special needs participate in Little League baseball. He had the heart of a saint and his compassion for all that he dealt with is a testament to the human spirit. We were all made better because Ira was a part of our lives and his absence is recognized daily.