The Law Offices of Frederick K. Brewington is a well-respected litigation firm with an office in Hempstead, Long Island. Our focus is primarily in the area of civil rights, voting rights, employment discrimination, police misconduct, personal injury, medical malpractice, wrongful death and criminal law. However, the Law Offices of Frederick K. Brewington is a full- service law firm handling matters in numerous areas of law and providing a wide range of services from contract formation to litigation and trial practice.
RECENT VERDICTS AND SETTLEMENTS
$7.75 million- Civil Rights and wrongful death action brought by the family of deceased

$4.7 million- Repeated verbal and physical assaults on Yemeni-American employee, while supervisor failed to protect employee and discipline the assailant

$1.277 million- Race based attack and serious injury by violent acts against Plaintiffs, who were lured to an isolated warehouse

$2.8 million- Wrongful death, products liability case involving a tow motor accident at a sewage treatment plant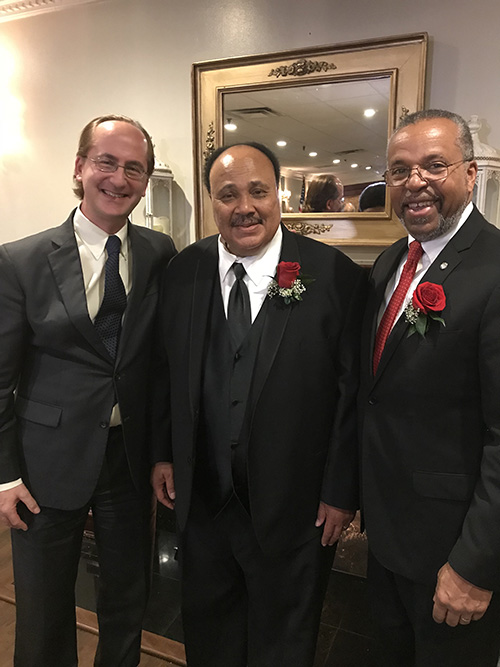 Pictured (left to right): former Touro Law Center Dean Harry Ballan, Long Island Legacy Gala Keynote Speaker Martin Luther King III and Fred Brewington.
Islip Town Branch NAACP Honors Fred Brewington at the Fourth Annual Legacy Gala

Fred Brewington received the Long Island Legacy Award from the Islip Town Branch NAACP (National Association for the Advancement of Colored People) at the Fourth Annual Long Island Legacy Gala. The event was held on January 13 at the Brentwood Country Club. Mr. Brewington was recognized for his professional pursuits and the contributions that he has made toward bettering the lives of all people, especially people of color on Long Island.

This event also celebrated the 50 years of Dr. Martin Luther King Jr.'s legacy. The keynote speaker was Martin Luther King III, the son of the late civil rights leader who has worked as a civil rights activist, worldwide humanitarian and political leader.

Mr. Brewington concentrates his practice in civil rights litigation. He is also an author and lecturer and an adjunct professor at Touro College Jacob D. Fuchsberg Law Center. Among his honors were being named to the New York Metro Super Lawyers list in the practice areas of Civil Rights, Criminal Defense and Employment Litigation: Plaintiff; the Long Island Business News Leadership in Law Lifetime Achievement Award; the 14th annual Long Island Press POWERLIST of the 50 Most Influential People on Long Island; and the New York State Bar Association's Haywood Burns Civil Rights Award.

The Legacy Gala was created to celebrate the lives and legacies of those who have come before us and those who remain architects of advancement today.