The Law Offices of Frederick K. Brewington is a well-respected litigation firm with an office in Hempstead, Long Island. Our focus is primarily in the area of civil rights, voting rights, employment discrimination, police misconduct, personal injury, medical malpractice, wrongful death and criminal law. However, the Law Offices of Frederick K. Brewington is a full- service law firm handling matters in numerous areas of law and providing a wide range of services from contract formation to litigation and trial practice.
The Law Offices of Frederick K. Brewington Welcomes Class of 2015 Summer Associates
This year, The Law Offices of Frederick K. Brewington has selected Ms. Nyoki Mckeith and Ms. Brianna Vaughn as its Summer Associates. Each of them comes to the firm with a wonderful and interesting background. They both have an interest in and are committed to civil rights work and seek to use their law degrees to follow the tradition of civil rights lawyers in being civil engineers for the public good.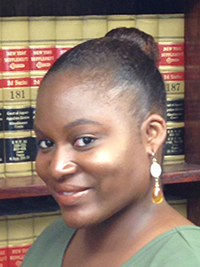 Ms. Mckeith is from Los Angeles, California by way of Lafayette, Louisiana. She is a December 2015 Juris Doctorate candidate at Southern University Law Center in Baton Rouge, Louisiana. She is a member of SELA, the Sports and Entertainment Legal Association. Prior to attending law school, Nyoki was a Division I basketball player who attended The University of Louisiana at Lafayette and moved on to complete a 12-year radio career at ABC/Cumulus Communications. She lends her experience and practical problem solving techniques to SELA by combining her sports and entertainment experience to a growing association. Upon graduation this coming academic year, Nyoki intends to relocate to New York and sit for the Bar examination. With a thoughtful approach to problem solving, Nyoki is using her law degree to equip herself to make a difference in society and the lives of those she will represent.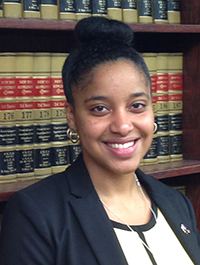 Brianna A. Vaughan is a second-year Juris Doctor candidate attending Albany Law School of Union University concentrating in Criminal Law. Brianna currently serves as the Vice President of Albany's Black Law Student Association and is a member of the Phi Alpha Delta Law Fraternity. Brianna was awarded a Bachelor of Arts in Political Science and English (with honors) from the State University of New York at Albany.
Raised in Hempstead, Long Island, Brianna aspires to use her Juris Doctorate to advocate for civil rights and to work in the legislature to create policy that will benefit her community and New York State as a whole.
Each year for the past 20 years, The Law Offices of Frederick K. Brewington has hired law students as part of its Summer Associate Program. This program was instituted by Mr. Brewington and his wife, The Rev. Adrienne Brewington, to provide opportunities for law students that had an interest in the area of civil rights and to encourage and foster students who have a desire to explore and experience what it is like to work in a fast-paced small law firm that is involved in high-profile civil rights work and litigation. The positions are highly competitive and normally start the first week of June and continue into the middle of August.
As students, the summer associates are asked to assist in drafting and responding to discovery requests, file review and preparation for trial. Students are required to be dedicated to their academic pursuits, aided by a solid understanding of the Federal Rules of Civil Procedure and Federal Rules of Evidence. Under the supervision of lawyers, the Summer Associates have client contact, firsthand experience in court proceedings and engage in a number of research and writing projects.