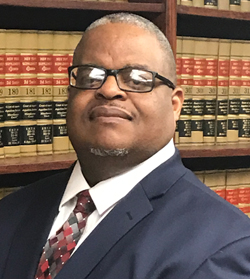 Albert D. Manuel III, Esq. joins our office as an Associate Attorney and brings with him the compassion and commitment to justice that makes him a wonderful fit for the Justice Posse.  He supports our clients in the areas of Personal Injury, Wrongful Death, Governmental Official Misconduct and Employment Discrimination. 
Raised in Far Rockaway, Queens, Mr. Manuel has a life-long passion for advocating for equal justice and the fair treatment of those who may not have the tools to advocate for themselves. He worked designing empowerment programs and serving as an advocate for under-represented youth and their families in Far Rockaway, Brownsville, and East New York, Brooklyn. In advocating for his clients, Mr. Manuel conducted seminars with school boards, police precincts, community organizations, and corporate boards. These experiences where clients would often believe either no problem existed, or no reasonable solution existed, provided a practical foundation for learning a client's needs and successfully applying relevant information to formally change what had been a negative status quo. Mr. Manuel brings this same passion to advocate to the legal profession.
Mr. Manuel graduated Magna Cum Laude from John Jay College of Criminal Justice of the City University of New York with a Bachelor's degree in Criminology with a focus on the disproportionate incarceration rates of non-white males in the United States. As a proud member of Touro Law Center's inaugural Two-Year Accelerated Honors Program, Mr. Manuel obtained his Juris Doctor in 2017. While attending Law School, Mr. Manuel served as the Moot Court Executive Board Program Editor, coach, and participant of Touro's National Moot Court Team. He was a CALI Award recipient for Excellence in Oral Advocacy as well as Law Practice Management. He also served as a member of the Justice Institute with the Hon. Joseph Bianco where students from Brentwood High School were introduced to the legal profession and coached through a mock trial. Mr. Manuel also worked as a Clinical Intern making appearances on the record on behalf of the financially disadvantaged. He represented clients in family law, chapter 7 bankruptcy, and immigration legal issues. A natural extension of his desire to help others, Mr. Manuel continues to serve as Mentor to the Two-Year Accelerated Honors Program at Touro Law Center.
Mr. Manuel's affiliation with the Law Offices of Frederick K. Brewington date back to his law school days when he completed an extensive, successful, yearlong externship. After graduation, Mr. Manuel gained valuable legal experience at top Civil Litigation firms. Returning as an Associate to the Law Offices of Frederick K. Brewington is a natural progression in his lifelong fight for justice.
When not practicing law, Mr. Manuel enjoys spending time with his family, reading, and wearing the hats of Chef and Turntablist.