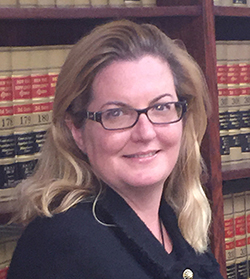 Cathryn Harris-Marchesi has joined the Law Offices of Frederick K. Brewington as a Senior Associate on a full-time basis. Since 2009, Ms. Harris-Marchesi has been Of Counsel to the Law Offices of Frederick K. Brewington. As such, her legal career has been comprised of a motions practice focused primarily on federal and constitutional law, including products liability, wrongful death, public and private employment issues, employment discrimination, fair housing, education law and excessive force issues. Ms. Harris-Marchesi is admitted and has argued before the Second Circuit Court of Appeals, U.S. District and State Supreme Courts.
Ms. Harris-Marchesi graduated from Northeastern University School of Law in Boston, Massachusetts, where she obtained her juris doctorate, and has been a member of the New York Bar since 2006. While attending law school, Ms. Harris-Marchesi was a Judicial Extern for the Honorable Kim McLane Wardlaw of the United States Court of Appeals for the Ninth Circuit; a Teaching Facilitator selected to teach the "Law, Culture and Difference" course; a Research Assistant to Prof. Deborah Ramirez where she managed a team of research assistants; a Teaching Assistant who conducted lectures on hate crimes to law students; and Student Project Manager for the university's Justice Institute.
After obtaining her juris doctorate, Ms. Harris-Marchesi was selected as a Litigation Fellow at Wiggins, Childs, Quinn and Pantaniz, LLC in Washington, D.C., where she worked on all aspects of litigation, mediation and negotiation involving mostly Title VII class action lawsuits. She then moved to Long Island to become the Housing Project Manager at ERASE Racism. Ms. Harris-Marchesi's achievements in this position included conducting fair housing legal analysis and drafting reports that were published in 2005 and 2009.
Ms. Harris-Marchesi worked with a small team and drafted new fair housing laws with enforcement systems that were enacted in Nassau and Suffolk Counties in January 2007 and conducted legal analysis of proposed community development plans and zoning ordinances. She frequently entered into negotiations with federal, state and local government agencies, testified at several county legislative hearings and was an invited speaker on fair housing law at many forums. Ms. Harris-Marchesi was also a guest lecturer at Touro Law School and Stony Brook University on public policy issues and the law, and a guest speaker at NYCLA on "Predatory Lending and the Ethical Responsibilities in Foreclosure Actions."
From 2009 to 2015, Ms. Harris-Marchesi was the Hearing Officer for the Nassau County Department of Housing and Community Development, where, once a month, she conducted hearings regarding individuals who had their Section 8 benefits terminated or had a grievance regarding their portion of the rent.
Ms. Harris-Marchesi was appointed in 2005 by then-New York State Governor George Pataki as a board member on the Nassau County Rent Guidelines Board and became a board member for Long Island Housing Services in 2011, both boards on which she continues to serve. Ms. Harris-Marchesi is multi-lingual, as she speaks French fluently and has a strong knowledge of Spanish. She brings to the office a wealth of knowledge and has developed an expertise in civil rights work, which is a passion that she possesses.