On December 16, 2021, the Long Island Advocates for Police Accountability (LIAFPA) and its allies representing Black, Brown, Asian, disabled, LGBTQ+ and faith-based organizations on Long Island held a press conference and rally at the Centerport United Methodist Church to denounce recent acts of hate, bigotry and bias which have been marked by crimes and violent acts on Long Island.
LIAFPA and the other organizations were joined by elected officials from Suffolk and Nassau Counties to sign on to The People's Public Proclamation Against Hate and commit to the message that "Hate has no place here!" in both word and deed.
The People's Proclamation Against Hate will bring together a wide range of community leaders, religious leaders and elected officials from diverse backgrounds, belief systems, life experiences and political parties to agree upon a baseline set of values to combat the rise of bias events, crimes and violence stemming from hatred, prejudice, racism and bigotry. The recent uptick in these crimes and incidents that are intended to separate us all is simply undeniable and has been widely covered in local media outlets, including Newsday. The following incidents (in reverse chronological order) are as follows:
DECEMBER 2021
Robert Fehring of Bayport was arrested for sending over 60 letters to LGBTQ+ individuals, organizations and leaders threatening violence against community members that would make the 2016 Orlando Pulse Nightclub attack "look like a cakewalk" in comparison and compares gay men to animals. Source: Newsday
NOVEMBER 2021
The so-called "Proud Boys," an organization designated as a hate group by the Southern Poverty Law Center and an extremist group with ties to white nationalists by the FBI, marched through Rockville Centre flashing white power hand signals and Nazi salutes. Source: Newsday
Andrew Niemir of Floral Park was arrested for defacing a Muslim-owned shop with derogatory graffiti. Source: Newsday
Governor Kathy Hochul signed legislation banning the display of hate symbols on public property after Confederate flags were discovered at the Brookhaven and Levittown Fire Departments. Source: Newsday
A noose was discovered at a worksite in Hewlett shared by PSEG Long Island and National Grid. This was the second noose discovered at a PSEG facility. Source: Newsday
OCTOBER 2021
A noose was found at a Babylon Town senior center. Source: Newsday
Christopher Cella of Suffolk County confessed to luring Hispanic workers into his vehicle and beating them because he "hated illegal Spanish people." Source: Newsday
An actor at the John W. Engeman Theater in Northport was called the N-word in between shows. Source: Newsday
SEPTEMBER 2021
A swastika and other racist graffiti were discovered on a Mount Sinai street. Source: Newsday
AUGUST 2021
Masjid Faizan-e-Aisha, a Hicksville mosque, was vandalized by an assailant dumping garbage and human feces of the premises. Source: Newsday
Hunter McElrath of Nassau County ransacked Jewish houses of worship in Long Beach. Source: Newsday
A swastika was found etched into a piece of playground equipment in Northport. Source: Newsday
APRIL 2021
In the early morning hours, Mr. Kyrin Taylor came into the tool room of his employer, Cooper Power & Lighting, located at 39 Central Avenue in Farmingdale, New York. He was shocked to see a noose, placed by his co-workers, hanging in the area which he must frequent on a daily basis. Source: CNN
"There is a sickness among us," said Fred Brewington of The Law Offices of Frederick K. Brewington. "One way to allow a sickness and fever to spread is to do nothing. But one way to combat a sickness, one way to combat a fever or a virus is you get the good medicine out to the good people. The medicine of hope. The medicine of love."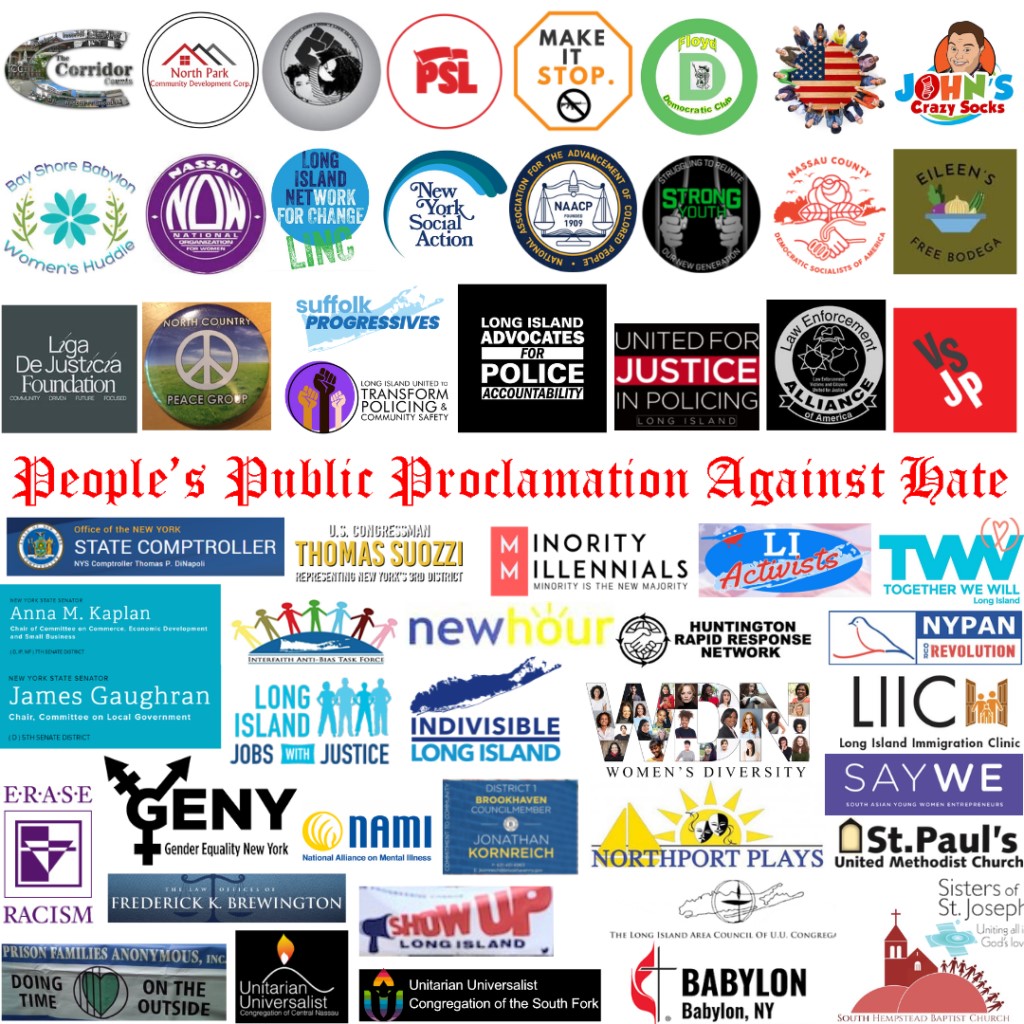 In a statement, LIAFPA said, "As we celebrate the life and legacy of the Rev. Dr. Martin Luther King, Jr., LIAFPA reiterates our commitment to equity, justice and peace. In keeping with Dr. King's example, we display the following logos and mastheads which represent organizations, offices and faith communities that have made a public statement of support for the People's Public Proclamation Against Hate. In doing so, they and their members have joined the growing number of groups and individuals that stand against acts, crimes and speech that perpetuate hate on Long Island and in our Country. We salute these groups for standing tall against hate and we encourage others to contact LIAFPA and join this movement which states that 'Hate Has No Place Here.'"
To sign the proclamation, go to http://liafpa.org or https://www.facebook.com/liafpa/.