Each year for the past 26 years (with the exception of 2020), The Law Offices of Frederick K. Brewington has hired law students as part of their Summer Associate Program. This program was instituted by Mr. Brewington and his wife, the Rev. Adrienne Brewington, to provide opportunities for law students that had an interest in the area of Civil Rights and to encourage and foster students that have a desire to explore and experience what it is like to work in a fast-paced, small law firm that is involved in high-profile Civil Rights work and Litigation. The positions are highly competitive and normally start the first week of June and continue into early August.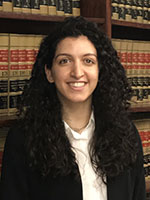 As students, the Summer Associates are asked to assist in drafting and responding to discovery requests, assist in file review and preparation for trial. Their experience includes New York State law and Federal law. Students are required to have a dedication to their academic pursuits as well as a solid understanding of the Federal Rules of Civil Procedure and Federal Rules of Evidence. Under the supervision of lawyers, the Summer Associates have client contact, firsthand experience in Court proceedings and engage in a number of research and writing projects.
This year, The Law Offices of Frederick K. Brewington is fortunate to have an outstanding law student who is an up-and-coming attorney in training as a Summer Associate. It is our pleasure to introduce you to Mathilde Warren. We encourage you to read her bio which is part of this article. Ms. Warren comes to us with a wonderful and interesting background. She has an interest and is committed to Civil Rights work and seeks to use her law degree to follow the tradition of Civil Rights Lawyers in being civil engineers for the public good.
Mathilde Warren is a rising 3L law student at Albany Law School of Union University. At Albany Law School, she competed in the Domenick L. Gabrielli Appellate Advocacy Moot Court Competition in which she was awarded Third Best Brief. She was also selected as a Research Fellow for the Center for Global Governance and Emerging Law. Ms. Warren has made the Dean's List for the past two semesters while studying completely virtually during the pandemic.
Before law school, she received her Bachelor's degree in International Development Studies from McGill University in Montreal, QC. During her senior year, she interned for a nonprofit organization comprised of pro bono lawyers advocating for the rights of temporary foreign workers in households and farms. This experience is what incited her to apply for law school and create change for others.
During law school, she was selected to intern for the Immigration Law Clinic. She worked in the first virtual collaboration between the Clinic, Ballard-Spahr pro bono attorneys, and Lawyers for Good Government to aid asylum-seekers at the U.S.-Mexico border while under the Migration Protection Protocol (MPP). She also worked on a DACA renewal case during the period where DACA was actively being litigated due to limits imposed by the Trump administration. She interned for the U.S. Agency for International Development where she assisted the divisions of Litigation and Enforcement; Acquisition and Assistance; and Relief, Resilience, and Response. She also had the honor of interning remotely for the United Nations Assistance to the Khmer Rouge Trials where she clerked for international lawyers and judges in the Cambodia Tribunal, and gained valuable experience in international criminal law.
Mathilde also had the honor to gain experience in litigation and advocacy during her summer at the Law Offices of Frederick K. Brewington, and learning first-hand about civil rights law and litigation. She is proud to work in a law firm that represents the rights of those underserved and mistreated, and plans to dedicate her career to those in such need.